Conductor: Mikko Rankin Utevsky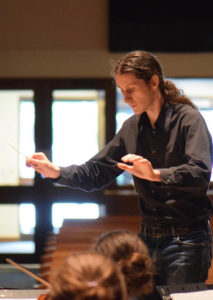 Born and raised in Madison, Mikko Rankin Utevsky is a conductor, violist, and baritone. A graduate of the UW-Madison School of Music, he performed in numerous ensembles (including as co-principal viola in the Symphony, Chamber, and Opera orchestras) and in multiple roles with the University Opera. He is the founding Music Director of the Madison Area Youth Chamber Orchestra, a summer festival ensemble for gifted high school and college musicians, which he has directed since 2011.
Since 2013, Mikko has been Music Director of The Studio Orchestra, a Madison-area community ensemble that performs at nursing homes and assisted living facilities throughout Dane County. While at the UW, he co-founded Impresario Student Opera, and led its debut performance of Mozart's "Der Schauspieldirektor." He also teaches viola and music theory, coaches chamber music, performs with regional orchestras (including the Dubuque and La Crosse Symphonies), and serves as cantorial soloist for Congregation Shaarei Shamayim, where he leads a community singing group.
Utevsky is also active as a critic, a musicologist, and a program annotator, and sings with the Madison Symphony Chorus. His mentors include Kenneth Kiesler, James Smith, Beverly Taylor, Sally Chisholm, and Elizabeth Hagedorn.
---
Accompanist: Yana Avedyan
Yana is originally from Kharkiv, Ukraine, where she studied with Tatiana Glazirina majoring in piano performance. She began her studies with Karen Becker at SUNY Plattsburgh in 2007 and has participated in master classes with Evgenia Tzarov and Helen Huang. In the spring of 2011 Yana made her debut as soloist with the Manhattan Chamber Orchestra, playing Mozart's Piano Concerto No. 23 in A Major, K. 488.
She completed her Bachelor's degree with a double major in Music and Accounting in May 2012, when she graduated summa cum laude. In the Spring of 2014, Yana was one of the winners of the Annual Beethoven Competition. She is currently in the DMA program at the University of Wisconsin–Madison, where she is a student of award-winning pianist Christopher Taylor.
---
Choir Members (Spring 2017)
Sopranos

Josie Annelin
Kathryn Brandner
Karlene Caston
Ariel Dickinson
Melinda Hamilton
Michelle Harrison
Deana Hipke*
Linda Keegan
Rachel Monroe
Julie Niemeyer
Emily Ostendorf
Christine Seeley
Linda Sheehy
Elizabeth Van Ness

Altos

Kari Belter
Susan Carson
Ruth Gundlach*
Dee Lawrence Hoff*
Kristi Holden
Joan Maynard
Amy Pease
Sandee Sieberlich
Deborah Thomas*
JoAnn Tiedemann

Tenors

Scott Breitenbach
Finn Enke
Drew Ivarson
Dean Schroeder
John W. Webber

Basses

Noah Bossert
Peter Bradley *
Eliav Goldman
Richard Goodkin
Steve Olsen
Jake Elfneer
* Board member