Mikko Rankin Utevsky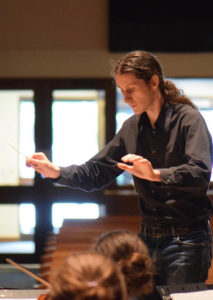 Born and raised in Madison, Mikko Rankin Utevsky is a conductor, violist, and baritone. A graduate of the UW-Madison School of Music, he performed in numerous ensembles (including as co-principal viola in the Symphony, Chamber, and Opera orchestras) and in multiple roles with the University Opera. He is the founding Music Director of the Madison Area Youth Chamber Orchestra, a summer festival ensemble for gifted high school and college musicians, which he has directed since 2011.
Since 2013, Mikko has been Music Director of The Studio Orchestra, a Madison-area community ensemble that performs at nursing homes and assisted living facilities throughout Dane County. While at the UW, he co-founded Impresario Student Opera, and led its debut performance of Mozart's "Der Schauspieldirektor." He also teaches viola and music theory, coaches chamber music, performs with regional orchestras (including the Dubuque and La Crosse Symphonies), and serves as cantorial soloist for Congregation Shaarei Shamayim, where he leads a community singing group.
Utevsky is also active as a critic, a musicologist, and a program annotator, and sings with the Madison Symphony Chorus. His mentors include Kenneth Kiesler, James Smith, Beverly Taylor, Sally Chisholm, and Elizabeth Hagedorn.